There's a Fire in the Kitchen! What You Need to Know to Protect Your Club's Restaurant
Posted On: May 31, 2019 by VGM Insurance in: Golf Risk Management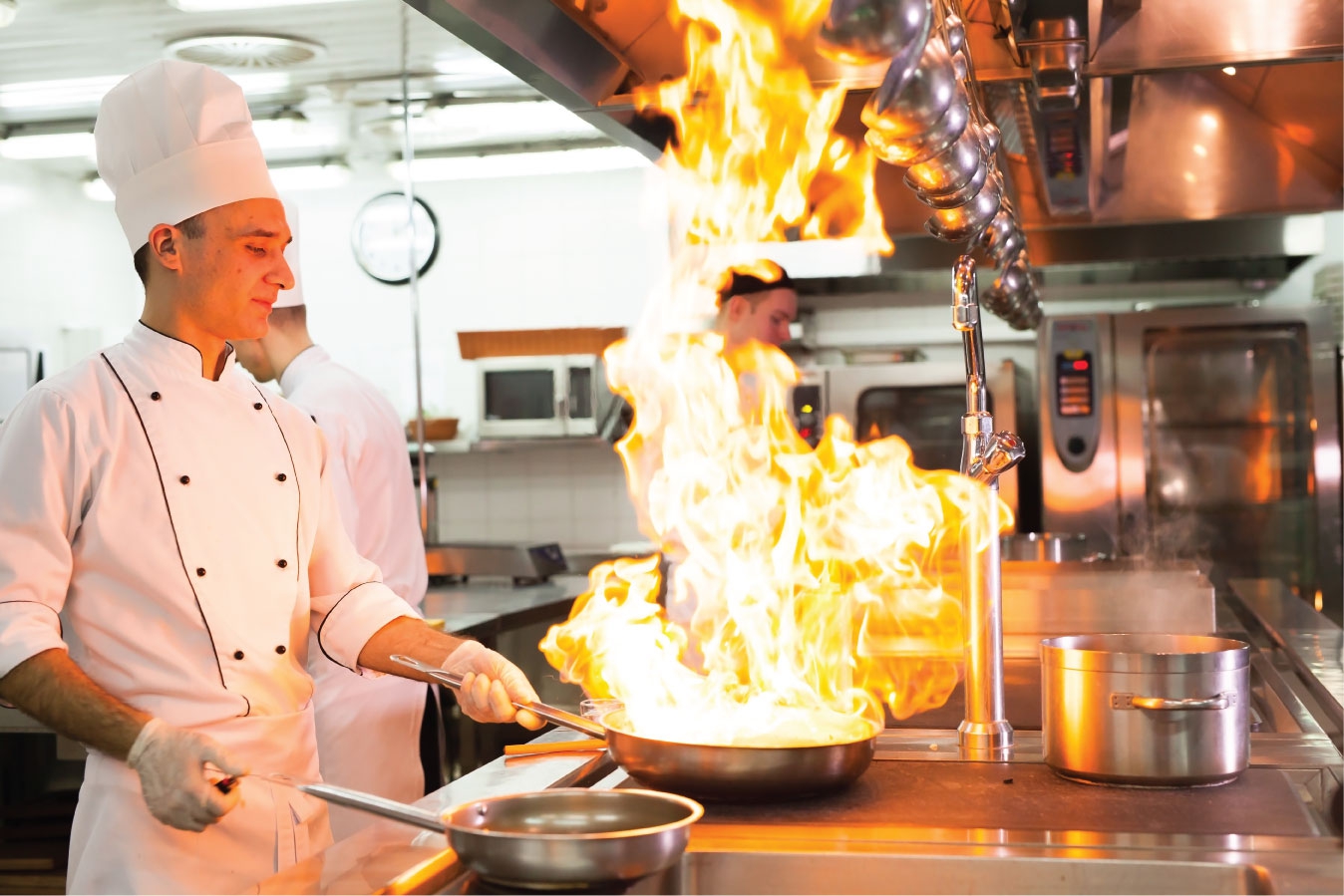 The food service business is nothing if not competitive. Highly competitive. Your members have a multitude of dining options, and simply because they have ready access to your club's restaurant doesn't necessarily mean they'll frequently take advantage of it, even if they're charged a monthly minimum.
So, as a club owner, you undoubtedly spend considerable time and money in order to deliver a high-quality dining experience for your members and their guests. But, as you're aware, the hospitality business can be unforgiving, and it's a constant challenge for owners to deliver exceptional food and service while maintaining profitability.
These challenges are magnified when you consider the unique risks associated with your restaurant. Having the proper insurance in place can help mitigate those risks. To help you identify potential blind spots in your risk management and insurance programs, we've provided the following list of common exposures among restaurants regardless of their type and size.
"There's A Fire in the Kitchen!" – Property Exposure
Property insurance exposures can be substantial for a restaurant, with fire from the kitchen as its most threatening hazard. Your restaurant's kitchen should have an automatic fire extinguishing system, including hood and filter, and appropriate handheld fire extinguishers that are quickly and easily retrieved. All employees should be trained on the proper use of the extinguishers. Fuel shutoffs for grills and deep fat fryers should be easily accessible and tagged.
Additional property exposures in your restaurant can come from many sources, including equipment failures, food spoilage, natural disasters, customers, employees, and other third parties.
Slips, Trips, Falls (and Hot Plates) – Business Liability Exposure
The most common risks associated with business liability insurance involve losses resulting from slips, trips, and falls, or any bodily injury or physical damage resulting from staff interaction with customers (i.e., members and their guests).
Remember when a jury awarded a McDonald's customer $3 million in punitive damages for burns she suffered when a scalding hot cup of coffee spilled in her lap? Something as simple as that, a hot plate, or an uneven surface can lead to costly insurance claims following an accident.
Employee education and diligence against spills and wetness of the handling of hot beverages and food plates are the most effective way to prevent liability claims.
Food Safety, Contamination, Spoilage and Allergies – Product Liability Exposure
Hundreds – if not thousands – of people have a snack, a drink, or a meal at your club every year. Food safety is an important consideration and a primary source of food and product liability. The potential for food poisoning, contamination, spoilage, and allergic reactions is ever present, making continued customer safety a challenge. Even a small incident can have a major impact on your business. A member or guest falling ill due to your food or accidently ingesting a foreign object found in one of your menu items could result in legal ramifications and irreversible reputational damage for your club.
Constant and relentless monitoring of the quality of food your club serves, posting a list of ingredients, and maintaining proper storage temperatures can reduce your risk of food poisoning or allergic reactions.
"Can I Top Up Your Wine?" – Liquor Liability Exposure
Lawsuits related to liquor liability are filed each day, and it's increasingly common for victims and their families to file suits against restaurants for their role in serving a customer who is then involved in an alcohol-related accident.
When it comes to liquor liability exposure, much depends on the amount and type of alcohol served and your state laws and regulations regarding who can be served and how much they can be served. You should consult with your legal counsel and broker or insurance provider with knowledge of the unique liquor laws and regulations of the state in which your club is located.
Your employees who serve alcohol should be required to complete educational courses in recognizing and dealing with intoxicated members or guests. You should also consider implementing a program to encourage designated drivers.
Natural Disasters, Cyberattacks, Supplier Issues, and More – Business Interruption Exposure
Continuity is critical in business, and there are few things more important than continuous revenue and cash flow, particularly for small- to medium-sized organizations. In fact, just one brief business interruption can be incredibly costly for an organization, often leading to serious reputational damages or long-term closures. Common interruptions for restaurants can include natural disasters, fires, food recalls, cyber-events, staff shortages, and supplier issues.
Thieves and Vandals – Crime Exposure
Your club's restaurant may not be similar to most restaurants, which tend to be cash-heavy businesses. But, like nearly all restaurants, yours no doubt carries bottles of alcohol, fine cuts of meat, possibly expensive works of art or collectibles, and most likely memorabilia that's especially valuable to members of your club. All of these items make your club a prime target for thieves – who very well could include your employees.
Here are some suggestions to help reduce the opportunities for crime-related exposures:
Install security cameras in the most vulnerable areas of your club.
Hire security personnel.
Consistently check stock shelves.
Place cash in your safe at irregular hours.
Member Data Is a Prime Target for Hackers – Cyber-threat Exposure
If your club is like many others in the United States, your membership includes individuals who are well known throughout your community and who may be financially well-off. The information your computer systems hold regarding these members, including credit and debit card information, Social Security numbers, and so on could make your club a prime target for cyber-criminals. Also, employees who are improperly trained on computer and data safety could put your club at risk to ransomware, viruses, phishing scams, and malware. Compounding your exposures, if your restaurant offers guest Wi-Fi, it could, if improperly secured, put you and your guests at risk of an attack.
Accounts Receivable, Computer Equipment, Food and More – Inland Marine Exposure
As a restaurant owner, you are responsible for property that may not be covered by traditional insurance. Inland marine coverage can fill these gaps in commercial property protection. Without an inland marine policy, property that's unique or valuable, in transit, in your temporary care, stored at fixed (but movable) locations, or used to transfer information represent major exposures. Specifically for restaurateurs, inland marine insurance can provide much needed protection for accounts receivable, computer equipment, data and records, food transported to various locations, and food trucks.
Employee Cuts, Burns, Trips and Falls – Workers' Compensation Exposure
On-the-job accidents at restaurants can lead to costly workers' compensation claims. Complicating matters, there are a number of risks to account for, including cuts and burns; slips, trips and falls; ergonomic-related hazards; and workplace violence. Things like improper lifting techniques, poor knife safety, and inadequate training can all cause your employees to suffer an injury on the job – disrupting your business and negatively impacting your bottom line.
Mitigate Restaurant Risks – Talk to Your Insurance Provider Today!
Your club's restaurant is a likely a key source of revenue for your organization and a key member benefit and source of enjoyment for your members and guests. As a club owner, it's important to recognize the unique set of risks associated with operating a restaurant on your premises and to ensure that you have the proper insurance coverages and risk management strategies in place. The best place to start is by talking to your insurance provider to ensure you have the correct policies in place. Many insurance companies can also provide "white glove" risk assessments on-site to help you recognize potential safety and liability issues and provide proactive recommendations to protect your club and avoid future claims.
David A. Harnois, CCM, CPL, is a proud employee owner of VGM Insurance & Financial Solutions, specializing in commercial and group program business. David provides insurance solutions for clubs through his VGM Club endorsed program. David can be reached at 319-800-6676 or at david.harnois@vgm.com.